The Honda Amaze was released in India in 2013. This car has been growing in popularity since it hit the market. Car enthusiasts are speaking so highly of the Amaze. This is one of the first diesel cars that India has ever had the option of buying and this could explain the popularity of it. Indian car drivers have been talking about the Amaze in quite a few different ways. This car is one of the easiest sedans to drive so young and veteran drivers alike have started to enjoy all of the accommodations of the automobile. Parents have been teaching their young drivers to drive these automobiles because of just how well they handle and because of their many safety features. Honda has really made a great addition to their line with the addition of the Amaze.
[Read: Honda Amaze CNG Variant Launched]
This car is a newer addition onto the car market. As India's newest and leading diesel car, it has gotten rave reviews from all who have driven it. It is a compact sedan with 4 doors that is very trendy and comfortable. With a 5-speed automatic transmission or 5-speed manual, this car is one that you will love to drive! This car handles incredibly well and is one of the easiest cars that you could ever drive.
Gas mileage, speed, and being India's number one choice
The Amaze has quite a few different features than a lot of other diesel automobiles. It gets great gas mileage getting 25.8kmpl and has slowly become one of the highest selling cars in India. The Amaze features anti-lock brakes, airbags, and Bluetooth connectivity for listening to all of your favorite bands and podcasts. You can enjoy the coolness and warmth of a high quality air conditioning and heating unit.
Honda has given these cars a wheelbase of 94.7 inches and a curb weight of 2,340 pounds. The maximum power of the Amaze is 98.6 Bhp at 3,600 rpms. The maximum torque of the Amaze is 200Nm at 1,750 rpms. The Amaze has 4 cylinders and front wheel drive. The Amaze has a 35 liter tank for fuel and gets 21 kmpl in the city and 23 kmpl on the highway. It has a turning radius of 4.70 meters.
Comfort and safety go hand in hand
With seating for 5, the Amaze is slowly becoming one of the most popular cars in India. Honda has really done a fantastic job creating and manufacturing it for India. The automobile features power windows and locks with keyless entry. It also has power steering with front and rear airbags for the safety of all of the passengers and driver. For fans of music, it has AM/FM stereo, Bluetooth connectivity, USB connectivity, and front and rear speakers that can really liven up a boring car ride!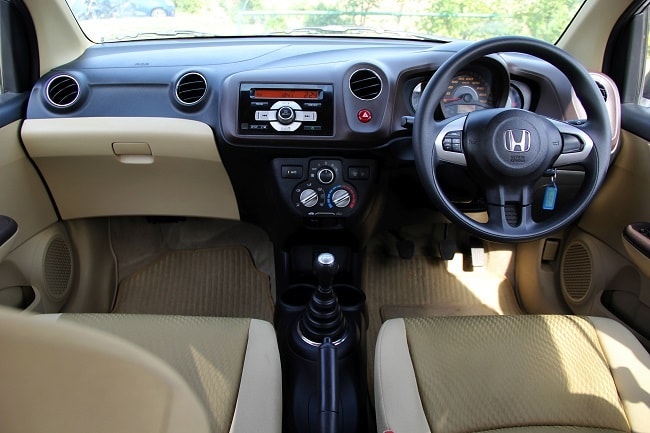 There are many safety features in the Amaze such as airbags, but there are also seat belt reminders that will make sure that you and your passengers are the safest you can be. It also features anti-lock brakes, rear seat belts, crash sensors, child safety locks, side and front impact beams, front disc brakes, and rear drum brakes. There is also a low fuel warning that all passengers can hear so you do not find yourself stranded. There is also a navigation system so that you rarely find yourself lost.
[Read: Honda Amaze vs Tata Zest vs Hyundai Xcent]
Ask others what they think about the Amaze
The reviews for this automobile have been very positive and more and more car enthusiasts are buying this car for the sleek and trendy look that it has. Many drivers are saying that this car is very comfortable for anyone riding in it. It does have a very large trunk, so many reviews say that this is a good car for long road trips. There have also been reviews explaining how great of a family car the Amaze is. There is quite a lot of room for passengers and with all of the safety features, it is one of the safest cars on the road in India. Overall, the sporty look of the Amaze is really drawing people to buy it.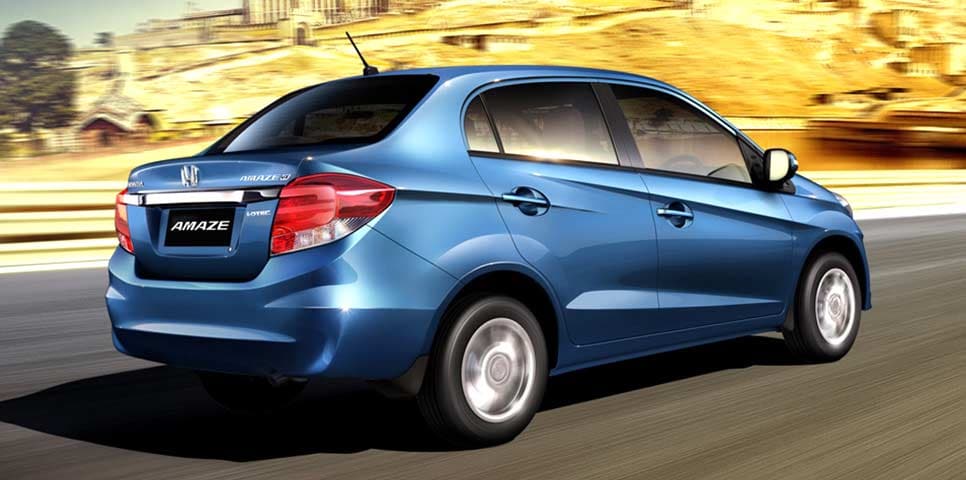 With all of these great features and reviews, the Honda Amaze will impress you. You will be happy that you decided to give it a test drive. This car will make you feel like you are driving on a cloud with a great diesel engine.