If you are looking for a super sporty bike, look no further than the Bajaj Pulsar 200. This is one of India's leading bikes and it is absolutely stunning. It is comfortable, sleek, and made for the road. This is one of the best sports bikes on the road today and it is well worth the money. It rides and handles incredibly well on the road, city streets, and the racetrack.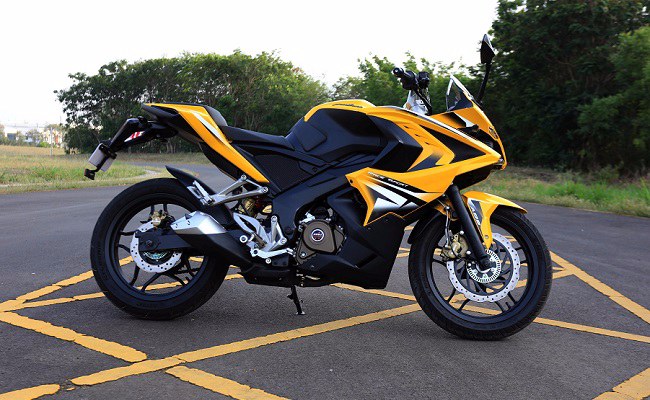 The Bajaj Pulsar 200 has a 4-stroke, liquid cooling, and single cylinder engine with 199ccs. It has a triple spark combustion system and 10 spoke alloys. It has a maximum power of 23.52 at 9,500 rpms and a maximum torque of 18.3 at 8,000 rpms. These bikes are some of the best for racing and handle very well on the open and dirt tracks.
Keep it naked or dress it up
Although this bike is considered a naked bike, it can be purchased in many different colors. The frame is pressed steel and you can buy it in cocktail wine red, ebony black, sapphire blue, and pearl metallic white. You do not have to choose any of these colors, if you want you can keep your bike with only the stainless steel frame with no color. There are so many ways to modify your bike as well to make it look best for your style and your personality.
The Bajaj Pulsar 200 has a wheelbase of 1,363mm with a 169mm ground clearance. The curb weight of the bike is 151kg and it has a 6-speed gearbox. It has a fuel tank of 12 liters and gets great gas mileage. It gets 30kmpl in the city and 35kmpl on the highway. This bike is great for Legal Street racing and riding on dirt tracks. These bikes can go from 0-60kmph in 3.6 seconds and 0-100kmph in 9.8 seconds. Its maximum speed is 135kmph.
Battery and brake functions
This bike features a maintenance free battery of 12 volts and front suspension is telescopic front fork with anti-friction bush. The rear suspension is mono suspension with nitrox. The front and rear brakes are petal disc with floating caliper. These brakes are made for the sudden stopping that you may need during a race. They are very safe for the riders and can stop and start very quickly. These brakes will keep you safe from any accidents that could be caused by faulty brakes.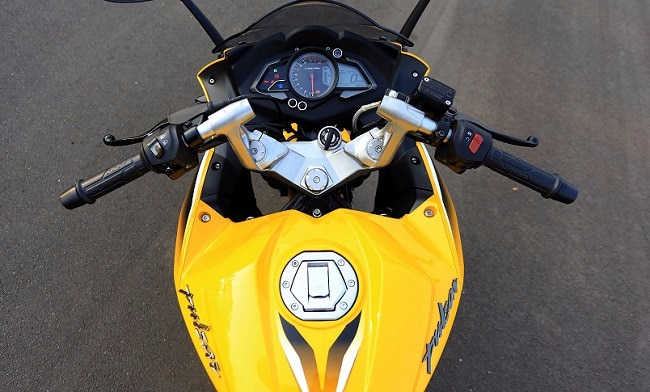 It has a digital speedometer, a digital trip meter, and a digital fuel gauge. You will never be worried about running out of gas or being stranded. The headlights on this bike are very bright and come in handy at night and are the darker roads. This bike is now considered one of the best bikes in India and the sales of this bike just keep getting higher. This bike has become very popular with street racers and on the dirt tracks. Many riders are using this bike for racing competitions because of the way it handles and its sleek look and feel.
Reviews and highlights for the Bajaj Pulsar 200
There are quite a few reviews online of riders who have bought this bike or simply taken it on a test drive. The reviews pretty much all have one thing in common, they rave about the comfort and quality of this bike. There is so much power behind this bike too. Riders of this bike really enjoy how well it handles and the power that it has. It is one of the best handling bikes on the road. The riders of this bike love the sleek and sexy way that it looks when it is being ridden. This bike is very light weight and it can be taken around the block or a few miles on the highway.
[Read this review if you have a few spare minutes]
The Bajaj Pulsar 200 is one of the top quality bikes in India today. This bike is made for racers who love the experience of a bike that handles well. Once you get on this bike, you will love how you look on it. The feel of the bike is also sleek and smooth and you will never want to ride another street bike again. With all of the color choices for the Bajaj Pulsar 200, it is hard for you to pick the one that you like best.